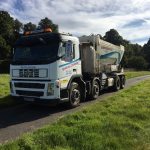 For a top concrete supplier in Speke, speak to Quality Mix. We guarantee quality products and services for all our clients. Our team has an unrivalled reputation for mixing concrete and delivering professional services. Concrete mixing involves combining cement, aggregate such as gravel or sand, and water. This process requires a high level of skill and advanced equipment to get the best results. Concrete mixers are normally used to combine all the elements of concrete homogenously. Although some builders use hand mixing for small repairs, this method cannot work for large constructions. Hand mixing also results in inconsistencies in the final concrete product. We deliver quality concrete from professional homogeneous mixing.
For handymen or DIY enthusiasts in Speke, a concrete supplier is hard to find over the weekend. Quality Mix has you covered even out of hours and weekends. We are available to supply concrete for any eventuality. Our services cover a wide range of clients in the UK including small builders, conservatory companies and construction companies. Fully equipped to service any contract whether it's a small repair or a huge construction, we can assist.  Our builders are skilled at mixing concrete to your exact requirements on site. We liaise with project managers and quantity surveyors to ensure you get the best deal in your construction. A levelling service is also available on request. We offer excellent services at unrivalled prices. Our services are renowned for customer satisfaction, reliability and pocket-friendly prices.
Advanced equipment is necessary for any concrete supplier in Speke. At Quality Mix, we have the latest technology in the ready mix concrete industry. With our machines, admixtures can be added to the mix at the touch of a button. Air entrain, plasticisers and trench fill foam agents are also available. For the more difficult jobs, a 20 feet delivery chute is fitted as standard. We service utility contracts and offer pattern imprint service and supply. For the 'Do It Yourself' enthusiasts our quality mixing will come in handy for your house projects.  Our services guarantee no waste and no mess. You only pay for the concrete you need. Contact Quality Mix for top concrete supply deals in town. Save on costs and get quality concrete from a reputable concrete supplier.