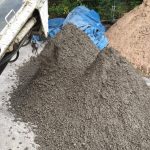 Find a trusted concrete supplier in St Helens for all your construction work. Whether it's a small property that requires ready-mixed concrete or you are a construction company that requires regular large batches, you can always rely on us, at Quality Mix. You can rely on us to deliver quality concrete and cement to your doorstep for any jobs that you may require, at prices that are very competitive. In addition to that, you only pay for the amount of cement that you need. With us, there's no returns, wastages, messes or problems!
Today, ready-mixed concrete has become the most cost-effective ways to place concrete in a new building. In St Helens, a concrete supplier will provide a number of benefits. We will be providing you with first class products, batched to your exact requirements. We provide our services to small builders, DIY enthusiasts, conservatory companies, construction industry and many more. Plus, our services are available out of hours and even during weekends, if required. The three key factors that we place our emphasis on are customer satisfaction, price and reliability. With our years of experience in the field, you can expect only the best and most accurate grade of concrete required for the job. Furthermore, we have a levelling service that is available upon request. All of our vehicles are equipped with the latest ready mix concrete industry requirements, and admixtures can be added at the touch of a button. We also have air entrain, plasticisers, and trench fill foams which are available. For more difficult jobs, we do have a 20 feet delivery chute, and we also have a barrowing service available.
You may get in touch with us if you need a professional and reliable concrete supplier in St Helens. We have years of experience in the field and would be more than pleased to assist you. For any further details, please contact us. Other than concrete, we also offer concrete Lego style blocks that can be used in a number of versatile ways.