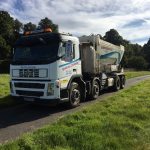 Make us your preferred concrete supplier in Runcorn and see us make your life easier. Considering the varied uses of concrete, it's advisable to source the product from a reputable and reliable supplier in order to get the desired results. At Quality Mix, our quality concrete will not compromise your project. We strive to exceed your expectations, which is why we never skimp on the quality of our supplies. Our concrete is made to the determined specification in order to be the best mixture for the job. We pride ourselves in helping you make your project a success. With us, you just need to tell us the amount of concrete you need and for what purpose. Our team of experts then mixes the best formulation and delivers it to your location for use. In case your site doesn't have sufficient space for a concrete chute, we provide wheelbarrow services and facilitate the mixing of the concrete on the spot. We hate wastage of product just like you do, that's why we ensure no mess is made so you only pay for the exact amount you use.
Whether you're a DIY enthusiast or an experienced builder, we guarantee you supreme products and services. In Runcorn, concrete suppliers help in ensuring you are advised correctly. We are passionate about providing you with the right product. Our customers range from a small to large and diverse base, but we treat them all with the same first-rate service, which entails concrete imprint services for driveways. At Quality Mix, we are not undersold. Simply compare our quality for quality and we'll always be the most affordable.
Concrete suppliers in Runcorn can deliver the ready mix concrete anytime, even on weekends. We don't discriminate the size of the job, every job and every customer is dear to our hearts. Feel free to contact Quality Mix to know more about our ready mix concrete. Should you also require barrowing, levelling or even pattern imprint services, look no further. Thanks to our many years of experience, our services are very reliable. If you desire admixtures to be added to your concrete, that's done at the touch of a button. Our team is also available to provide advice on the best ready mix concrete for your projects.