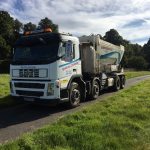 If you are looking for a reliable concrete supplier in St Helens, you'll be please to know that we are available to assist.No matter whether you are a weekend DIY enthusiast or a full time builder, we can provide top quality ready mix concrete in the quantities you need. Highly regarded for our expertise and prompt reliable service, we meet our clients' requirements with top quality concrete at affordable prices. What is great about our service is that you only pay for the concrete you use. This means great savings and an efficient job.
For your large or small building project in St Helens, a concrete supplier you can depend on is the best partner. Whether it is a retaining wall, or a larger building, you'll be relieved to know that there is a concrete supplier that ticks all the right boxes. From the moment you place your call and order your concrete, until it is delivered to your site, you'll realise you are in the hands of true professionals. Customer care is important to us too, so the person who takes your order will be on the site when it is delivered. He will ensure that you are completely satisfied with your concrete. We also supply concrete by the barrow, and this ideal if you only need a small amount of concrete for your project.
A concrete supplier in St Helens has the expertise, staff and equipment to provide the exact amount of quality concrete that you need. First established over 15 years ago, we continue to provide the efficient and affordable service we are known for. If you need a concrete supplier that offers a professional and affordable service, contact Quality Mix today. Our company has achieved the BSI Kitemark for concrete supplies, so you can be certain of our professionalism and quality concrete. Our services don't stop at supplying concrete. Should you need assistance, we are available to provide a service for constructing shed ad garage bases, concrete repairs, concrete driveways, Lego style blocks and more. We are happy to provide advice and suggestions should you need them.