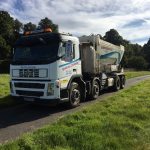 A concrete supplier in Halewood can help people save a lot of money and time on their building projects. Firstly, the supplier will deliver the concrete at your construction site. The customer doesn't have to worry about purchasing or transporting the concrete to the building site. Secondly, the concrete mix is made to order. This means the quantity that is required will be delivered; nothing more, nothing less. To save money and prevent waste, this is the best strategy. Third, if the concrete is being used to build a home, it's only natural that the home owner would want the very best quality. We have access to and provide top quality and durable concrete. We stand by the quality of our product. Lastly, we use methods to mix and prepare the concrete that doesn't harm the environment.
Are you searching for high quality concrete for your build? In Halewood, a concrete supplier that many homeowners swear by is Quality Mix. We are proud of our standing as one of the best concrete suppliers in the area. As such, we provide a comprehensive and cost saving service, while meeting and surpassing our customers' expectations. With a wealth of knowledge and experience, our team provides the best concrete services. We are committed to providing excellent value for money. This means you're will only pay for the amount you need and the best quality concrete. With more than fifteen years' experience, we are a concrete supplier that you can rely on.
As the leading concrete specialists in the area, we are a concrete supplier in Halewood you can depend on. If you are planning a new build or construction work and need a professional concrete supplier, contact Quality Mix today. We also offer a range of other services such as garage and shed bases, foundations and footings, concrete or pattern imprinted driveways, concrete repairs, concrete barriers and Lego style blocks, reinforced concrete and construction.  We believe in continuity of care, so the person you ordered your concrete from will ensure that you are completely satisfied with the end result.