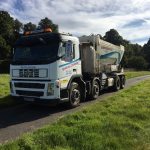 As your concrete supplier in Huyton, we want to make your experience trouble free. Our services are suitable for slabs, foundations, driveways and other such large jobs. If you need concrete for postholes it's easy enough to buy a bag of ready mix and add water to it as you need it for applying by hand. When you order from us, we don't want you to pay for more than you need. So we take careful measurements and we'll help you determine how much concrete you need. If there's any left over, you don't have to pay for or dispose of it. A good description of the jobsite and the project type is helpful when you call. We will recommend what if any additives you need and the grade of concrete to meet standards. It helps to know if there's room for our truck to manoeuvre
Our company was founded fifteen years ago just as the popularity of volumetric concrete mixers was gaining in popularity. In Huyton, concrete supplier and Quality Mix founder was the first in the area to purchase a volumetric mixer. This innovation allows us to mix your concrete mixture on site to the correct specifications including any additives. It's all done electronically within the truck.  We mix to the right consistency in the drum just prior to pouring, using the appropriate length chute. No only is the mix more accurate but it's also a time saving process. As your contractor we can affirm that anytime we can save on labour costs we can save you money. The cost of the concrete is based on your ratios and quantity. You'll find our prices are competitive.
As a concrete supplier in Huyton, we're committed to personalised customer service. To do that we ask for as much lead-time as possible. If you get your numbers to us with a few days of advance notice, you can depend on us to be there as agreed. If only short notice is possible, we'll do our very best to accommodate you because we value all of our customers. You'll have a cost estimate right away so you know well in advance what your costs will be with no surprises. Contact us to supply your next project. We work with contractors and do-it-yourselfers to achieve the best result for you. Our reputation for honesty, quality and dependability is well established.