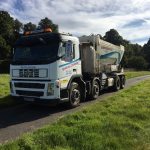 Have you a project in the works that requires a concrete supplier in Prescot? We have just what you need. What formula would you like for us to use for your project? Don't worry, most people don't know. You don't need to know because we have 15 years of experience and on board technology to make sure the ratios are right. Whatever the strength you need we'll get the ratios of cement, sand, water and aggregates mixed on site and ready to use. We are pretty accurate at figuring the volume needed for any job. But you don't have to worry about that either because you only pay for what you use. We are a trusted team of advisors. In the areas of Liverpool and Cheshire, we are proud to have achieved the BSI Kitemark for our concrete.
Customer service is primary and we think continuity of service achieves the best service. In Prescot, concrete supplier teams may have you talk to the sales person and you figure all arrangements are understood. Delivery shows up and they have to be told what to do. You call the company to complain and get somebody else that knows nothing about your project. We don't work that way. We strive to make sure you have one point of contact from start to finish. That avoids mistakes and miscommunications whether we're pouring for your new home foundation or barrowing in enough concrete for your garden shed. If you need excavation and form building for your concrete project, we can recommend and arrange that work for you.
We are the concrete supplier in Prescot for many driveway installation contractors. Pattern imprinted concrete in an array of patterns and colours are popular. Of course we also provide standard concrete. Among our other services are concrete blocks for protective barriers used on roadways and factory sites. We also supply interlocking concrete blocks which are great for retaining walls and can be moved and repositioned. Contact Quality Mix for all your concrete projects. Remember us to for repairs. Driveway and walkway cracks, chips off steps and border walls and more can be repaired and finished to look great. You can count on us to be on site and on time with the right product and service every time.