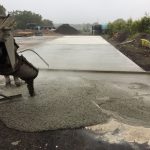 Do you need a reliable concrete foundations supplier in St Helens? At Quality Mix, you can avail of a range of services such as supply of ready mix concrete, barrow mix and affordable concrete. Our client base extends throughout the Liverpool and Cheshire areas and beyond. With more than 15 years in this business, we have built a sturdy reputation for quality, sensible pricing and superb customer service. Our founder was the first person in the Halton area to purchase a volumetric concrete mixer, and the rest, as they say, is history. Today, we are proud to hold the BSI Kitemark for our concrete supply services. Our dedicated team can help you with shed and garage bases, footings and foundations, driveways, reinforced/construction concrete and concrete barriers. We can also help you with concrete repairs.
For builders in St Helens, concrete foundations supplier services from our firm are the right option when you plan extensions or new builds. We fully understand that a strong and well-constructed foundation is what enables longevity and safety of buildings. There may be different foundation requirements for the type of building that is planned. Excellent quality concrete guarantees that the occupants can enjoy the use of the building for a long time. Our highly trained, experienced and knowledgeable technicians can give you the right inputs. You can provide us with information on the kind of building that's planned, approximate weight and size and what it will be used for. We'd also have to know the geological structure of the site. If you plan basements or cellars, they should be part of the plan you give us.
Concrete foundations suppliers in St Helens can also help you with other types of foundations such as "crawl-space" or concrete "slab on grade" types. Full basements are the deepest part of the foundation. They need to be strong, resilient and waterproof. Some basements may extend above the ground and have daylight windows embedded at the ground level. Footings are the type of foundation that is in immediate contact with the earth. Contact Quality Mix today if you're looking for a professional concrete foundations supplier. We can help you, no matter how big or small the requirement.