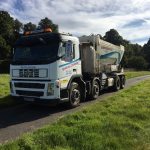 For all things concrete, Quality Mix is your concrete supplier in Huyton. We offer many services to our customers, whether residential, commercial or industrial. We are equipped with the quality concrete, mixed to specifications, the equipment and the skills for any sized job. For the homeowner planning to buy a pre-built garden shed, let us recommend that you let us prepare the base and the concrete pad for the shed. We know many people who buy these sheds and even those who build them on-site don't always floor them. For long term durability and protection of your tools, we encourage you to fit the shed to a concrete base. It will prevent the shed from sagging and against mould. You'll be able to seal the shed tight to the concrete pad.
Consider your options when it's time for a new driveway. In Huyton, concrete supplier can give you the finish you want. We know that concrete can crack over time and that's why we build in the expansion and contraction space. For long-term durability and value for money, a concrete driveway tops the list. If you already have a concrete driveway in need of repair, it's likely we can make those repairs and still leave your driveway looking great. For best results, call us for repairs at the first sign of pitting or cracking. This holds true also for concrete patios and walkways. If you like clean lines, concrete does the job. When you are planning these projects we can advise on mixture, depth of concrete needed and any additives. For homeowners, non-slip finish is best.
As a concrete supplier in Huyton, we've been in business for over fifteen years. We were first in the area to grasp the value of a volumetric concrete mixer and to purchase one. We are a proud recipient of the BSI Kitemark for our concrete supplies. If you are planning an extension to your home or building a new home or garage, contact Quality Mix. We work with local contractors on every type of project requiring concrete mixed to specifications, with or without additives. We can get to the hard to reach areas either with the chute or by wheelbarrow. We calculate the quantity you need, but sometimes, there is left over concrete mix. You don't pay for that. We take responsibility for that cost and for the disposal of the excess. Always, you only pay for the actual amount of concrete mix that you use.