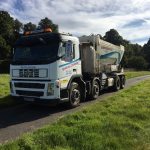 By partnering with a top-quality concrete supplier in Tarbock Green you can ensure that your construction is sturdy and long-lasting. Quality Mix is proud to offer premium quality ready mixed concrete at the best rates, customized to your exact requirements. The best part is that you only pay for what you need. We have more than fifteen years' experience in providing excellent quality concrete in the Liverpool and Cheshire areas and beyond. What sets us apart is our commitment to quality, realistic pricing and our 100% focus on customer satisfaction. Our services and products include shed and garage bases, footings, foundations, driveways, pattern imprinted paving, concrete for repairs, concrete barriers, Lego-style blocks and construction/reinforcement concrete. The on-site ready mixed concrete is a great option that provides consistency, cost-savings and reduces wastage.
For building projects in Tarbock Green, concrete suppliers have to keep pace with modern requirements. In today's environment, with increased urbanisation, the demand for concrete has increased exponentially. One of the reasons for this is also because technology advances and more advanced equipment require the use of certain types of concrete such as ready-mix. The construction industry may require different options such as lightweight or fluid concrete pumping, barrow mix pumping or steel fibre concrete pumping. When you partner with us, you pay only for what you use, and we're proud of our punctual and prompt delivery services throughout the Liverpool and Cheshire areas and beyond. Our highly qualified, experienced staff and concrete experts can provide you with the right advice and assistance.
Contact Quality Mix today,  and as one of the leading concrete suppliers in Tarbock Green, we can offer a competitive quotation. The construction contractor can work out the grade of concrete that is required for the project. No matter what your unique requirements, preferences and budget, we aim to provide the perfect solution. You can provide us with information regarding the approximate amount of concrete you need, for what purpose, location and the delivery time. Your operator will be able to tell you whether you require a pump or barrow service. Use our online volume calculator to determine how much concrete you may require.